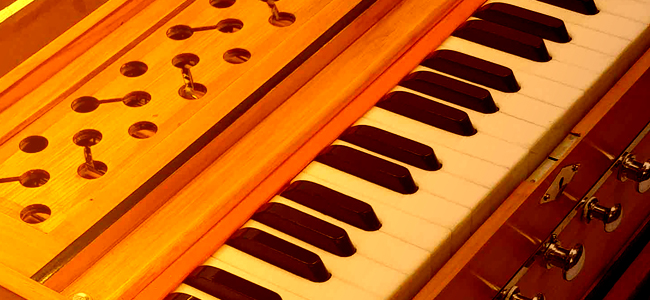 A Harmonium is a keyboard instrument that makes sound by blowing air through metal reeds using hand-pumped bellows. Although widely used in the Indian subcontinent as an accompanying instrument, it originated in Europe and was brought to India in the 19th century. Today it is an important instrument popularly used in Hindustani Classical, Carnatic, Sufi and Devotional Music (Kirtans & Chanting).
Haribhau Vishwanath Musical industries have been the leaders in the design & manufacture of Harmoniums in India since 1925. The quality, sound & variety we offer is unparalleled.
All our models are crafted from carefully selected, Seasoned Burma Teak for the inner framework and Indian or African Teak for the outer body. Workmanship of a highest grade and Strict Quality Control is maintained during production. Only the best quality reeds, bellows, leather and Hardware are used. Once put together each instrument is meticulously tuned for the perfect sound by our experts.
Every instrument comes in a protective padded Nylon Soft Case.